Green Adamawa Project (GAP)
His Excellency Rt Hon Ahmadu Umaru Fintiri flagging up the Green Adamawa Project (GAP) on 17TH June 2019 at the Government House Yola with ED ECF SSG, Chief of staff and other government officials and aid
Green Adamawa Project (GAP)
His Excellency, Chief Crother Seth, Deputy Governor of Adamawa State receiving trees form ED ECF Mr. Yohanna Moses to commence 2020 tree planting campaign in continuation with the Green Adamawa Project (GAP)
Green Adamawa Project (GAP)
The Chairman Christian Association of Nigeria (CAN) Adamawa State branch Bishop Dame Mamza receiving seedlings from PS Ministry of Environment to flag up the GAP in worship places in the state in continuation of the GAP in 2020
ECF Nursery at the Ministry of Environment green area 2019
2021 World Environmental Day
ECF ED Mr, Yohanna Moses with various community leaders in Hong LGA during the 2021 World Environmental Day and commemoration and the Decade of ecosystem restoration which witnessed a donation of 20, 000 seedlings by one of the community member for distribution and planting,
ECF staff Mr Emmanuel Usiju and members of AUN during plant pick up at ECF nursery Jimeta-Yola Adamawa state
2022 World Environmental Day
The NAF Commandant NAF Based Yola planting seedling during the WED 2022 organized by ECF and other partners in Adamawa State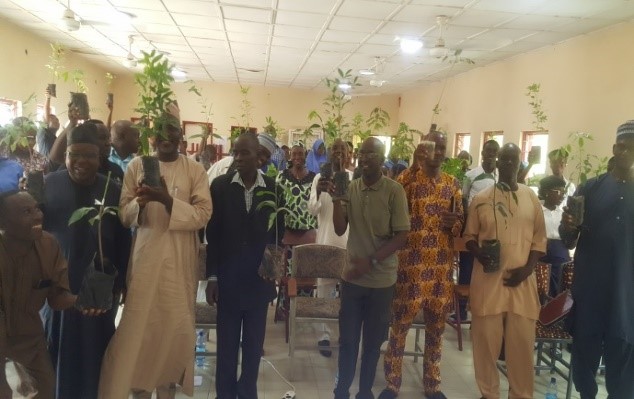 2018 World Environmental Day
Principals of various Secondary Schools both public and private during a seminar on tree planting and promoting climate change education in schools while commemoration World Environment Day celebration in 2018 at Concordia College Yola Adamawa state organized by ECF in collaboration with the Adamawa State Ministry for Environment
ECF during a townhall meeting with community stakeholders in Michika LGA IN 2016 while implementing a project titled Promoting harmony. Michika LGA was invaded and occupied by the Boko haram militants before they were driven away by the Joint military task force.
A cross section of participants during the tree planting campaign at Resort Estate Girie LGA organized by ECF in 2019.
ECF Climate Smart Kids club from Abishack memorial Academy performing a drama on the 3RS reduce, recycle re-use and in 2017 at AUN auditorium
Divine and Anna both members of Climate Smart Kid club and all former pupils of Abishack memorial academy now schooling in different state making a joint statement during the World Earth Day 2022 at AUN Yola Adamawa
Pupils of AUN Academy, Concordia College, Abishack Memorial Academy, Colonel Isa Academy all in Yola, the State capital during a join climate action in 2018 at AUN sustainability Department
The Programme officer CISCOPE a rice farm farmer in Fofure LGA Adamawa and ED ECF during a demo of the money maker max pump a manual water pumping machine being introduce by ECF for sustainable farming in 2017
A community leader in Gombi LGA received a powered tiller from ED ECF during the dry season farming support by ECF made possible by VSF IN Gombi LGA Adamawa State 2018
Executive Director ECF Mr Yohanna Moses with in- schools supported pupils at Central Primary school Michika with school sandal, bag, textbooks, exercise books, teaching materials etc in Michika LGA in 2016 (5000 in-schools pupils were supported which have significantly increased school enrollments and retention
Educational Support Materials
Executive Director ECF Mr Yohanna Moses with supported in- schools pupils at Jidel Primary school Michika LGA with school sandal, bag, textbooks, exercise books, teaching materials etc in Michika LGA Adamawa state in 2016 (5000 in-schools pupils were supported which have significantly increased school enrollments and retention
Adamawa State in 2016 made possible by VSF
ED ECF On sensitization on climate change with ECF Youth Climate Club students of Federal Government Girls College Yola Adamawa State
growth despite prevailing circumstances. ED ECF with Sengere Women
A beneficiary of livestock part of the ECF livelihood programme where each HH were supported with 3 female and one male goats for breeding with stipends for feeding and medical support meant to strengthen their livelihood and small-scale enterprise
Distribution of inputs to 1000HH
Distribution of inputs to 1000HH preference to Women and child headed homes affected by the insurgency in Madagali LGA of Adamawa state in 2017. 1000hh were supported with rain fed inputs which includes, seeds, fertilizers, knapsack sprayer, herbicide etc as well as extension services support from FADAMA 111, Ministry of Agriculture and ECF team
Distribution of Educational Support Materials
The Education Secretary Michika LGA, ED ECF and other stakeholders during the distribution of educational support materials to 5000 pupils in 13 primary schools in Michika LGA of Adamawa State in 2016 made possible by VSF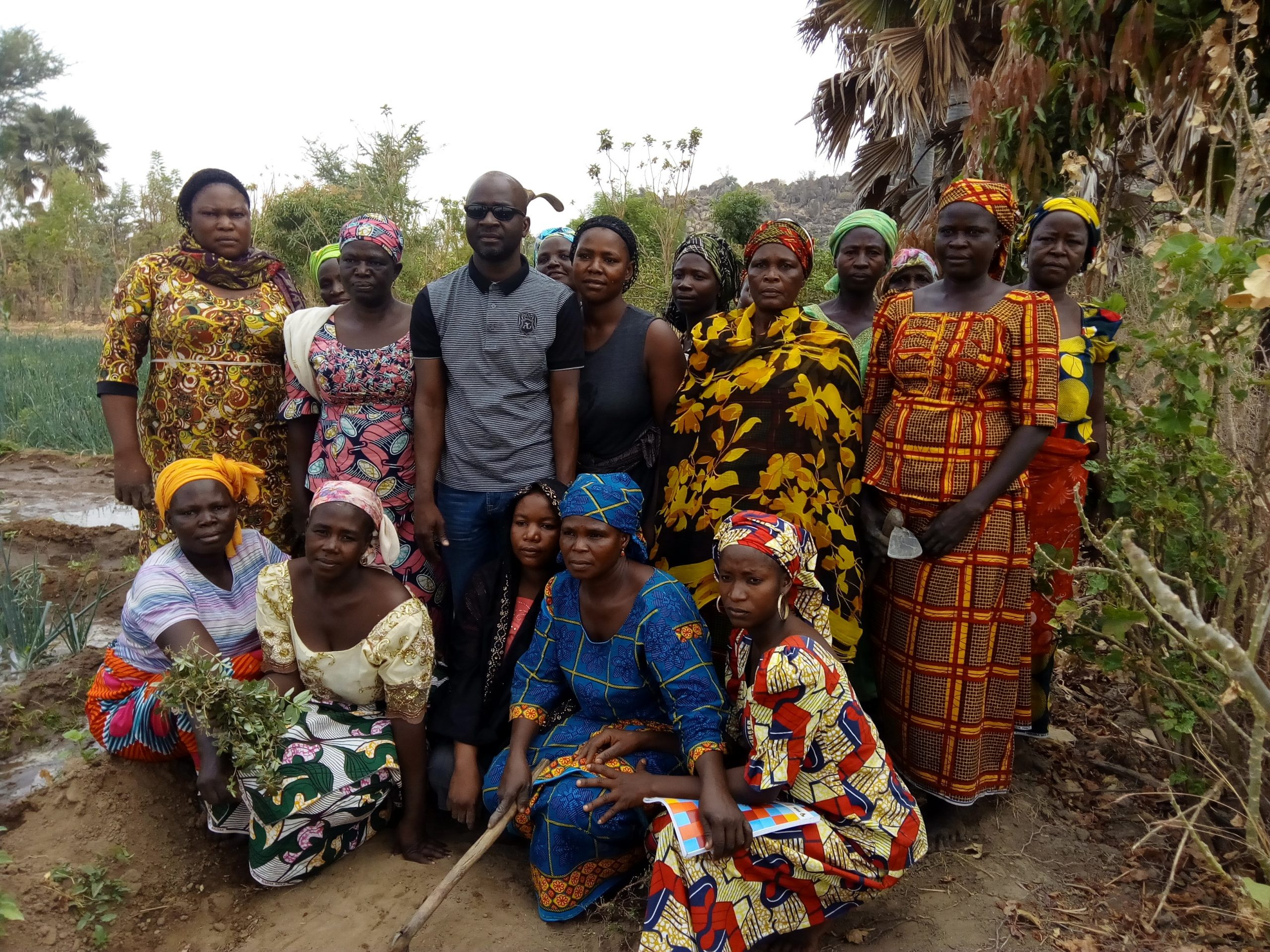 ECF over the years have over 300 cooperative group formed and built their capacity. Over 65% of the cooperative groups are still working together and they have experienced tremendous growth despite prevailing circumstances. ED ECF with Sengere Women Cooperative society made up dry season farmers in one of their farms in Moda-Michika LGA
Climate Smart Kids and Youth Climate club
Divine Yohanna one of the pioneer members of ECF Climate Smart Kids and ECF Youth climate club making a presentation on the importance of tree planting and nurturing them to grow because of the immense
Two of Sengere Women cooperative group on their onion farms during a visit by ECF M &E officer to monitor utilization of inputs in Michika LGA
Environmental Care Foundation (ECF) is a development non-government organization registered in Nigeria in 2010. ECF is engrossed to promoting Sustainable Development Goals (SDGs) focusing on climate change, Food Security, Good Governance, Education and Peace building. respectfully Goals (2. 7, 4.13. 16, 14) and providing humanitarian assistance and support in the Northeast